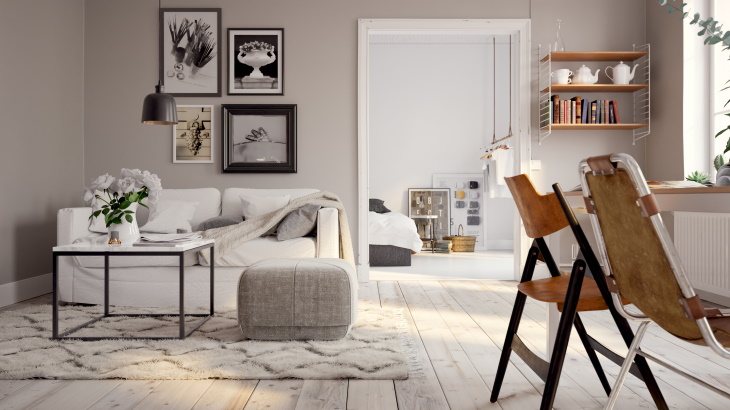 Tips on Decorating Your Apartment for Rent in Overland Park, Kansas
When you move into a brand-new luxury apartment, you want your space to reflect who you are, feel comfortable, and look like absolute perfection. With all the top-quality finishes in the apartments for rent at The Apex at CityPlace, decorating your new place could be your chance to design beautiful rooms.
Depending on the size of the Overland Park apartment home you rent, you will need a variety of pieces of furniture to complete the look. To help you decide what you'll need, we've put together a furnishings checklist you can use when you head out to your favorite furniture store. We've intentionally used a pleasing, neutral color palette in each unit, so any color of furnishings will fit right in.
Luxury Apartment Bedroom Sets
For every sleeping area in your new apartment, you'll want to purchase a bedroom set suited to your style and the space. The sleeping areas of our studio apartments, one-bedroom apartments, and two-bedroom apartments vary in size, so we recommend taking a virtual tour to get an idea of how much space you'll have.
At a minimum, you'll probably want to pick out a comfortable bed, a dresser, and one or two bedside tables for your bedroom. You may also like to have a small accent chair in your bedroom, which can be useful for getting dressed in the morning, or for taking a moment to relax in the solitude of your personal oasis.
Dining Furniture in Your Luxury Apartment
The Apex at CityPlace is located in one of America's best cities: Overland Park, Kansas. Nearby, you'll find numerous dining options from locally-owned restaurants to popular chains. We took our prime location into account when designing the layout of the dining area in our luxury apartments.
Every unit features a counter-height bar, with the same gorgeous quartz as the rest of the countertops. So, you don't even need to bring your own small dining table! Instead, choose two or three counter-height stools to complement the rest of your furniture!
Each breakfast bar faces into the kitchen and is visible from the living room, so matching your dining stools to your living room aesthetic can help you keep a cohesive style throughout your main living spaces.
Apartment Living Room Furniture
When you entertain, your guests will most likely settle into your living room space. And when you're binging the latest Netflix series, you'll probably be in your living room, too! In any apartment, the living room should be a place where your friends and family can comfortably sit and visit with you, as well as a comfortable place for you to land after a busy day at work or play.
Our open floor plans allow your kitchen, dining area, and living room to flow seamlessly together, so take that into consideration when you pick out your living room furniture. The apartments at The Apex at CityPlace boast modern kitchen finishes, including dark wood cabinets, quartz countertops, and tiled backsplashes. Sleek lines help your kitchen take shape, so you may want to consider this when you select your other furniture. (But you certainly don't have to. In fact, mixing and matching styles and design areas is very on-trend right now!)
Consider a media stand of some kind for your television and other tech devices, a sofa, and end tables or a coffee or cocktail table. You might find that decorative poufs double as extra seating in a pinch, and make great ottomans when you want to prop up your feet.
Large windows and balcony doors let in plenty of natural light in your new living room space. You may want to select a set of thick blackout curtains should you want to darken the room for a movie marathon or mid-afternoon nap on the sofa.
We also recommend table lamps with built-in cell phone chargers for your end tables. These are smart apartments, after all, and you can control your lights, thermostats, and door locks from our specially-developed app on your smartphone. And because our luxury plank flooring is a solid surface, adding an area rug to your space can keep it cozy and complete your design.
Necessities for the Gourmet Kitchen in Your Apartment
If you plan on cooking a lot, or if you have very specific tastes for your morning coffee and meals, then you probably already know all the kitchen basics you'll need to eat well.
You can, however, give away your water purifying pitcher to a friend, because our Overland Park, KS luxury apartments are equipped with full-size refrigerators with filtered water and ice dispensers. You can also donate your old microwave to your favorite thrift store; all our units come with one that matches the rest of the sleek and modern stainless steel appliances.
Balcony Furniture in Overland Park
Take in some fresh air and look out at your city on your private balcony. It's the perfect place to sip coffee in the morning or read a good book on a weekend afternoon.
Because our balconies are of a usable size, you might consider purchasing an outdoor chat set – a couple of outdoors chairs with a small table. The right furniture on your balcony renders it one of the most useful and versatile spaces in your new home!
Find a Luxury Apartment Near You
If you're looking for a truly top-of-the-line place to live in Overland Park, look no further than The Apex at CityPlace. With apartment community amenities like a swimming pool with a swim-up bar and private cabanas; health club and yoga studio; social lounge and wine bar; dog park and doggie day spa; outdoor grilling areas; concierge services; private screening room; and much more, you'll have everything you need all in one place: your home.
The Apex at CityPlace is now leasing luxury apartments near you in Overland Park, Kansas. Contact us today to learn more.