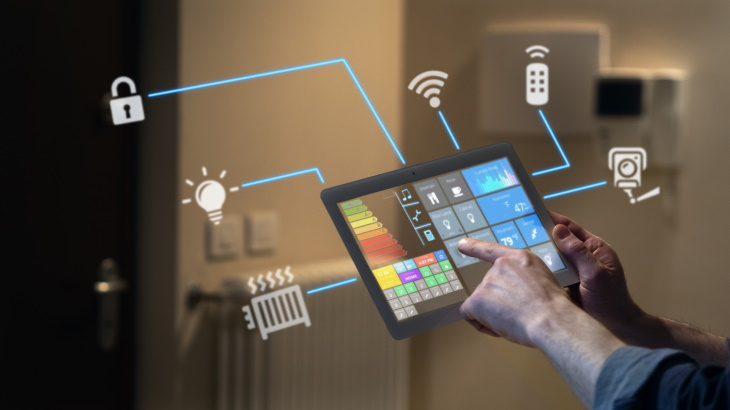 Smart Home Features, Outdoor Spaces, and Lots of Apartment Amenities
So, you're looking for a new place to live? Starting the apartment hunt can feel daunting, especially when there are so many outlets to find apartment listings: Facebook Marketplace, Craigslist, apartment websites, word-of-mouth, real estate magazines… The list feels endless.
But if you're seeking a truly luxurious apartment in Overland Park, you might run into another issue: apartments that would not be considered luxury by any standard are advertised as such! Now, you've run into a new problem: finding the true luxury from apartments that only look nice in photos. Here's how you can determine just how luxurious the apartments you're considering really are!
Luxury Apartment Communities Offer Lots of Amenities
The best apartment communities in Overland Park boast an extensive list of amenities for residents to enjoy and to help them with their daily lives. These amenities are separate from the ones you'd expect to see inside each unit (like a washer and dryer, walk-in closets, or upgraded appliances).
Community amenities are those that draw you outside your home when it's time for leisure and relaxation. Most apartment complexes have a swimming pool and fitness center. But, the truly luxurious ones offer things like:
A health club, with a massage room, salon, and yoga studio (with classes!)
Private cabanas on the pool deck
Outdoor game center, grills, and televisions
Media lounge and private screening room
Dining club, social lounge, and wine lounge
Pet amenities, like dog parks or grooming salons
Concierge services to take care of dry cleaning, dog walking, and parcel receiving
24-hour mini-market
And much, much more!
If the so-called "luxury" apartment you're considering doesn't have these benefits, it's probably not what you're looking for.
Overland Park Luxury Apartments Are Better than "Builder-Grade"
Top-quality finishes are a key indicator of whether an apartment can be considered luxury. For example, an apartment with basic cabinets (like the old-school honey oak color), laminate countertops, white appliances, and no backsplash to be found is not a luxury rental property.
These basic finishes are often referred to as "builder grade," which means the finishes are inexpensive, lower-quality materials, as opposed to custom-grade or quality-grade materials, which are both more durable and aesthetically pleasing. Any finish can be considered "builder grade," including flooring, bathroom fixtures, and even door knobs!
Custom or quality finishes include solid-surface countertops, like granite, marble, or quartz; cabinetry with well-fitted hardware; high-end tile backsplashes or similar treatment in the kitchen; and quality flooring. These materials wear better long-term than much cheaper ones, so your luxury apartment will stay looking new and fresh, even after your lease is up!
Characteristics of Your Luxury Apartment Unit
Aside from the finishes, luxury apartments tend to have more features than those that have not earned the label. In a luxury apartment, for example, you should expect a kitchen complete with all stainless steel major appliances: dishwasher, refrigerator, range, and microwave. You should also expect a garbage disposal to be installed in the kitchen sink.
Walk-in closets, private balconies, and updated electrical sockets featuring USB outlets are also commonly found in luxury units. Some luxury apartment buildings, like The Apex at CityPlace in Overland Park, Kansas, have outfitted units with smart home features, including electronic smart thermostats, smart locks, and smart lighting, allowing residents to control these aspects of their home from their smartphone. Smart apartments simplify life and make mundane tasks easier to complete! And if you're in bed and can't remember if you locked your door, well, all you have to do is press a button on your phone!
Apartment Management
Most apartment communities have 24/7 on-call maintenance for any emergency or issue that may arise. However, not all apartment buildings have extra-special management services in place, like controlled access, concierge, and dry cleaning!
The Apex at CityPlace team offers these and more, which frees up the time you'd normally spend answering the building door to let your guests inside, planning dinner reservations, or picking up and dropping off your suits at the cleaner.
Location of Luxury Apartments
Here's a tricky one! Any apartment building can boast that they include luxury apartments, regardless of location! That's because the luxuriousness comes from what's on the inside. Whether the apartment building is tucked away in a rural environment far from town, or rooted on a downtown, urban city blog, or even in the suburbs, surrounded by restaurants, shopping, and entertainment, it can still be considered a luxury apartment.
Don't let location, location, location fool you — unless that's your sole consideration for an apartment. It does, of course, help to choose a place to live based on all the great opportunities nearby. As long as you like the location, the luxury apartment you're considering will probably fit into your lifestyle.
How to Find a Luxury Apartment Near You
If you're looking for a true luxury living experience in Overland Park or the greater Kansas City area, then look no further than The Apex at CityPlace! This brand-new apartment building has all the features you'd ever want in a home, and it's absolutely gorgeous to boot!
Come home to fine finishes in your apartment, tons of on-site entertainment and activities included in your rent, and a location that puts you near some of the top area attractions. Choose from our studio, one-bedroom, two-bedroom, or three-bedroom floor plans, all thoughtfully designed with your lifestyle in mind. Cook meals in your gourmet kitchen; relax on your large, covered balcony; and turn off your lights and lock your front door, all from the comfort of your bed.
We only have 370 smart home apartments available, so take a virtual tour, check out our unit availability, and then contact us to reserve your new place today. Most residents are moving in, in October! You, too, can be one of the first to experience a luxury lifestyle in Overland Park.