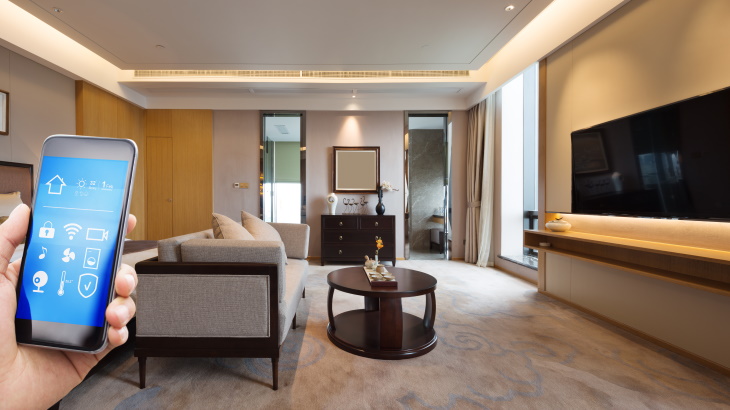 Luxury Apartments for Rent Near You Making Living Easy
You've had an incredibly stressful day at work. Your boss was disappointed in the report you delivered; you barely had a chance to eat lunch; and then you were assigned a new project with a coworker you don't get along with. To make matters worse, your evening commute was riddled with traffic and enraged drivers. You can't wait to get home and relax!
As you park your car in the garage, you remind yourself that you live at The Apex at CityPlace, Overland Park's newest luxury apartment homes, and that you're about to enjoy some of the great benefits of taking up residence there. You know the special features inside your apartment and apartment amenities within the building are sure to relieve your stress from the day: your large soaking tub, which you'll fill with warm water to drop in a rich bath bomb; a private balcony for unwinding with a glass of wine and a charcuterie board that you prepared in your gourmet kitchen; and other soothing amenities, like a Zen garden, fitness center, and a health club that offers massage therapy.
Perhaps best-of-all, once you're in your apartment, you can control everything you need from your sofa – or soaking tub, or balcony – using your smartphone. As you walk down the hallway toward your apartment, you pull out your phone, deactivate your apartment locks and turn on your lights before you twist the door handle and enter your own private oasis, which is set to the perfect temperature, thanks to the smart thermostat. Now, it's time to relax!
Smart Apartment Benefits
Control Your Apartment Lights from Your Phone
Not having to get up to flip a switch to turn a light off or on isn't lazy; it's high-tech, and it actually can improve the safety of your home! Why?
You can activate the lights in your apartment before you ever unlock your door and enter your home. This ensures your luxury apartment is well-lit when you walk inside. No one likes entering a dark domicile!
If it's night, and you need to get out of bed to get a snack or visit the bathroom, you can use your smartphone to turn on the lights, so that you can safely make your way wherever you need to go. You're less likely to sustain injuries if you aren't shuffling around in the dark to turn on the lights. No more stubbed toes, bruised hips, or tripping and falling.
Similarly, if you're finding as you rest on your sofa that you might like to take a nap, you can turn off the lights before you fall asleep without jarring yourself awake by walking over to the light switch.
Lock and Unlock Your Front Door in Overland Park, Kansas
Your smart apartment at The Apex at CityPlace has door locks you can control from an app on your phone. This means you don't have to fumble with your keys to get into your apartment quickly, and you can lock your door from various points in your apartment if you realize you forgot to do so.
Most people have easy access to their phones at all times, so it makes sense that you could quickly pull your phone from your pocket, and with the press of a button on the touchscreen, your apartment door will unlock and you can enter easily. This is especially helpful on days you are burdened with lots of bags or are having trouble digging your house key from the depths of your tote bag.
If you decide to soak in your well-appointed bathroom's soaking tub, double-check you've locked the door without having to walk all the way through your apartment. And you can check your locks when you crawl into bed, so you have peace of mind as you drift off to sleep.
Control the Heating and Cooling of Your Luxury Apartment Home near Kansas City
Adjusting the temperature of your apartment when you aren't home can save you a bundle on your energy bill. For example, in the winter, you could turn the heat down and keep your apartment cooler, waiting until you're headed home to warm it up using an app on your smartphone. In the summer, you might turn your thermostat up several degrees to keep your apartment slightly warmer, and cool it off before arriving after work. In this way, you aren't heating or cooling a vacant apartment, which, most people agree is a waste of money!
When you're home and finding that you're feeling uncomfortable with the current temperature, you can use your smartphone again to warm or cool your luxury apartment without having to walk across the room to adjust the thermostat. If you're already cozy in your bed, but feeling like the air is a little chilly, you can bump up the heat without disturbing your sleepiness, or you can heat up your apartment just after your alarm goes off, so when you're ready to get out of bed at the next snooze alarm, your home is a much more comfortable temperature.
You can even program your thermostat to adjust automatically. Preprogramming your thermostat has been shown to reduce your energy bills by 10 to 30 percent, according to the United States Environmental Protection Agency. Programmable thermostats save you money because you use less energy when you're away from home or sleeping.
Sign the Lease on a Smart Luxury Apartment for Rent in Overland Park, Kansas
It's easy to see why The Apex at CityPlace is a great place to live, thanks to its smart home technology that you can control from your phone. But our residents also enjoy a lengthy list of amenities unlike anywhere else in the Kansas City metro area in our studio, one-, two-, and three-bedroom apartments for rent.
Contact us at 913-396-7822 to sign a lease and move into your new digs later this fall, so you can enjoy the benefits of living at The Apex at CityPlace all winter long.