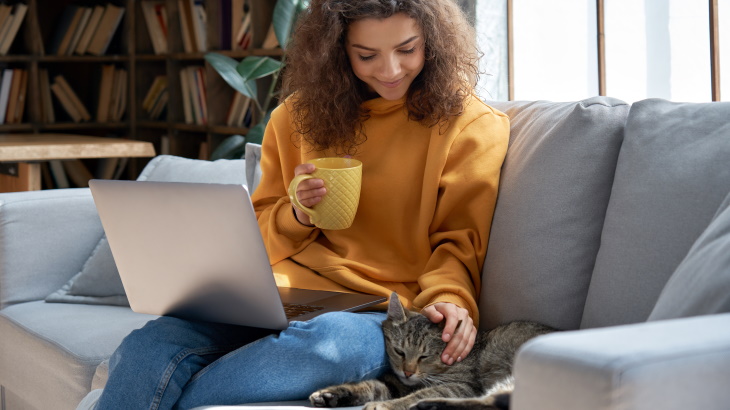 Four Ways to Keep Dogs and Cats Active and Engaged Inside a Small Space
Pet-friendly apartments allow us to be with the ones we love the most. Not only are pets a source of unconditional love and affection, they make perfect roommates for living in a limited space such as a one-bedroom or studio apartment. Cats and dogs have a knack for making the most out of the space that they're given. They know where their food is, which spots are best for naps, and (hopefully) which items are their toys. Just like people, pets need mental stimulation and physical activity in order to truly thrive and be happy. Pets that are regularly engaged and challenged generally end up living longer and are less prone to health problems. If you're wondering how to keep your pet entertained inside your apartment or limited space, we've prepped a list that both you and your fur-baby should appreciate. The best apartments for dogs and cats are the ones in which they have plenty to do.
Toys
This one is a no-brainer. Pets need toys. If they don't have them, then things of yours such as shoes and other items of interest may potentially become their toys. One way to keep your pet actively engaged and entertained is by steadily introducing a regular rotation of toys. You can do this by purchasing them at a pet store or by subscribing to a monthly service such as BarkBox so that you don't forget. If you notice your pet has lost interest in a particular toy, store it in a closet or toy tub for a month or two. You can reintroduce it after some time has gone by and it'll seem like new to them again.
Pet Play Date
Any seasoned pet owner will tell you the quickest and most surefire way to keep a pet entertained is by giving them a companion. Pets that get to hang out and socialize with other pets are generally happier and have less reliance on their owners for stimulation. For people living in an apartment, owning two pets isn't always an option. A great way to give your pet all the benefits of socializing without the commitment of taking on another pet is by setting up play dates. If you have a friend or family member who also has a pet, set something up where the two of them can be together for the day. This is excellent for developing their social skills.
Exercise
No matter what size or breed of pet you have, they need some sort of exercise. Physical activity is critical to a pet's health and wellbeing, but this can be a bit tricky when dealing with a smaller space like a one-bedroom or studio apartment. For dogs, you can always play a game of indoor fetch or tug-of-war using a rope toy. These are easy and cost-effective solutions that get them active and running around. For cats, there are several motorized toys that trigger their natural instinct to hunt and pounce. Some of these toys can even be controlled by an app on your phone so you can turn them on and off when you're away from home. Or, if you're willing to invest a little more money, you can buy your pet an indoor treadmill so that they may run to their heart's content. It may take some training on your end to help your pet figure out how the treadmill works, but once they do, they'll be off to the races. This is a great solution for owners of pets that are especially hyper or are dealing with weight issues.
Treat Puzzles
Cats and dogs are often compared by how different they are from each other in behavior and temperament, but one thing they both crave is mental stimulation. All pets have a built-in natural curiosity about their surroundings and the objects available to them. They love to explore. One way to encourage that is by strategically hiding small portions or treats throughout your apartment. Think of this like an Easter egg hunt for your K-9 or feline pal. Every morning, strategically place treats hidden throughout the space concealed in items such as folded toilet paper rolls or treat puzzle toys. They will have to use their nose to sniff them and then figure out how to access the treat using their mouth and paws. Even if you have a small space, this should keep them busy for several hours.
We Love Pets at The Apex
The Apex at CityPlace in Overland Park is luxurious, packed full of amenities, but best of all, pet-friendly. We know how much our residents love their pets, which is why we allow up to two (no weight restrictions, some breed restrictions) per resident. We are also one of the few luxury apartments in the area that offers a Paw Spa and Bark Park for dogs. The Apex really is the best apartment home you can give a pet.
The best way to see what The Apex can offer you and your furry friend is by checking out our virtual tour or by scheduling an in-person tour. Contact us today to book an appointment with us so we can show you around.