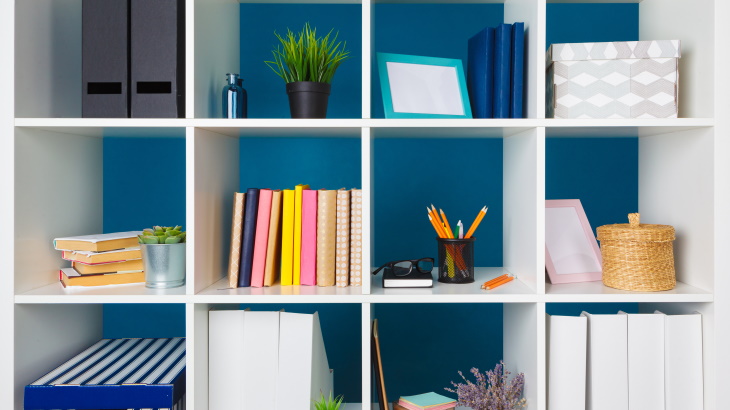 The Top Five Tips to Try in Your Overland Park, KS Apartment Home
When it comes to apartment living – especially with a studio or one-bedroom – you need to get creative with the space so that you can make the most out of it. Storage is one of the biggest challenges that renters face, which is why we love IKEA and how they're helping people do more with less. For those of you already living in or considering a luxury apartment in Overland Park, here are our top five favorite IKEA hacks that are designed for small spaces.
Beds with Storage
Everybody needs a bed. That goes without saying. But if all you're using your bed for is sleeping, then you're wasting valuable space. This is why we love IKEA's beds with built-in storage space. Not only are you getting a great product to rest your head at night, you're also getting tons of additional drawer space for stowing away shoes, clothes, and those extra blankets you tend to tuck away during the summer. If you're living in an apartment that doesn't offer a large enough closet, a bed with built-in storage is the perfect apartment hack. It's like having an extra dresser right under your mattress.
Sleep Sofa
Let's say that your apartment is small…so small that having a bed uses up too much valuable space. For some living in a studio or micro-apartment, it doesn't make sense to have a dedicated piece of furniture for sleeping. If that sounds like you, then perhaps a sleeper sofa is the way to go. You're getting the best of both worlds. During the day, you have a nice comfy couch to lounge on. At night, you can easily switch it over to a bed by pulling out the mattress that's hidden within. This is a highly versatile piece of furniture that helps single apartment dwellers get the most out of their tiny space.
Ottomans & Coffee Tables
Your living room is most likely the main area in which you'll be hanging out in your apartment, so it's a good idea to invest in products that are both fashionable and function as good places for storage. When it comes to coffee tables, make sure you look for ones that either have drawer space or an extra table top surface. This serves as a good spot to put remotes, video game controllers, and other small items when they're not in use. An ottoman with storage is another ingenious piece to add to your living room, capable of hiding those extra blankets and small pillows until you need them.
Wall Storage & Shelving
A small apartment is only going to offer so much floor space, which means that you have to get creative with how you use your remaining surfaces. If you're looking for wall storage solutions, IKEA has pegboards for storing office and kitchen supplies. This keeps those items in sight, readily-available, but also cleanly organized. IKEA also has all manner of hooks and hanging devices for things like your coats, jackets, and other items you want to keep off the ground. For heavier items, standing shelving units or shelves that install into the walls are a great option. You can use these to store your books, DVDS, and other media. Or, if you live in an apartment that doesn't feature a lot of kitchen storage, you can put all your overflow of plates, cookware, and dry goods there.
Storage Tubs
If you're like most people, you have items that you're not actively using but need to hold on to. For instance, everyone has their own personal filing system that holds their paperwork. This could include hardcopies of tax returns, your birth certificate, or other legal documentation that you need to keep stowed away for safekeeping. Storage tubs from IKEA are perfect for that. They're also great for those items that you use on a seasonal or once-in-while basis, like heavy winter coats, snow boots, or thick sweaters.
Come See Luxury Apartment Living at The Apex
The Apex at CityPlace in Overland Park knows that every resident has different needs when it comes to space. That's why we offer a wide array of floor plans for our smart-capable apartment homes. We have studios around 500 square feet for those leading a minimalist lifestyle, but we also cater to families and groups of friends with our spacious 3-bedroom apartments. No matter what your situation or storage needs, The Apex at CityPlace should have the perfect spot for you.
The best way to see how great your next apartment home can be is by checking out our virtual tour or by setting up an in-person tour. Contact us today and we'll set up a time to show you all the luxurious services and amenities The Apex offers exclusively to its residents.