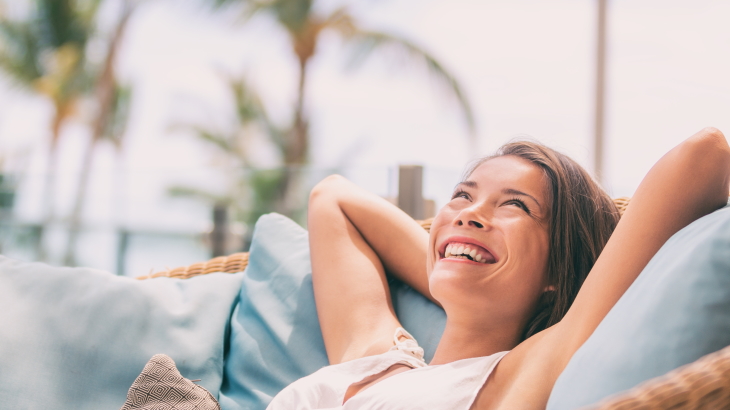 The Definitive Guide to Upscale Living in Overland Park, KS
"What is the difference between a standard apartment and a luxury apartment?"
This is a question that we get all the time here at The Apex at CityPlace in Overland Park. As we all know, an apartment is a place to live. You keep all your stuff there and it's where you lay your head at night. If you want more beyond that, you're going to have to go off the property to get it.
A luxury apartment, on the other hand, elevates the entire living experience. When developing The Apex, we asked ourselves, "How can we give our residents more than simply a place to stay?" We wanted to give the people of Overland Park a modern living experience that caters to people who play just as hard as they work with all the comforts and amenities they'd traditionally seek off the property. Luxury is having everything you could possibly want just a short walk from your front door.
Digital Sports Lounge
When we were thinking about our favorite aspects of our local pubs, bars, and restaurants, it didn't take us long to figure out that games are what makes going out fun. There are countless places that you can drink and dine, but only a select few really play up the fun aspect so that you can cut loose with friends.
In the digital sports lounge at The Apex, we offer a wide variety of game options for our residents including a regulation foosball table, shuffleboard court, poker table, and other game tables for whatever your activity of choice is. The next time you want to get some friends together for game night, you can play host right here at The Apex.
Upscale Food & Beverage
Coffee is a staple of life. It's practically the first thing you want in the morning, which is why our team here at The Apex made getting that morning cup of Joe a priority with our premium coffee machine and Keurig coffee options. We brew everything fresh first thing in the morning so people can kick their day off with that much-needed caffeine boost.
After work you can unwind with an ice-cold beer courtesy of our beer tap that we have right here on site at The Apex. We also feature a fully functional chef's kitchen with all matter of cookware that you could possibly need to make your dream cuisine. It's perfect for when you want to host a large dinner party and need extra space to accommodate all your guests.
Work from Home Like a Pro
In 2020, working from home became the norm. And now that we've seen how efficient we can be outside of the office, we thought we'd carry that over into 2021 with our co-working space and conference room features that we have at The Apex. We have everything you need to carry about your office routine just as you normally would, complete with speedy internet, conference call lines, ample desk space, and a professional backdrop for your Zoom calls with clients or company leadership.
Lounge and Relax in Style
When we were originally conceptualizing The Apex, we wanted to take relaxation to the next level. Any apartment in Johnson County can offer a place to live. What residents really want is a resort-style feel like they're on vacation. That's exactly what we've accomplished here at The Apex at CityPlace in Overland Park.
Residents love unwinding by our fire pit during the evening and hanging out on our scenic patios on sunny days. We also feature a pool deck that's fantastic for catching some sun while enjoying your favorite tropical beverage.
Our great hall is also fully furnished with modern furniture, a sleek design aesthetic, and plenty of tables and conversation nooks. It's a great spot for hanging out and socializing with friends with tons of space to explore.
Smart Apartment Homes for Modern Living
No luxury apartment home would be complete without smart-capability. Here at The Apex at CityPlace, we live in the digital age, which means that all your lights, locks, and thermostat can be fully controlled by your Android, Apple, or tablet device. You can still control everything manually, of course, but we know there are times when you want to adjust things in your apartment without getting up.
If you ever suspect you've forgotten to lock your doors or turn your lights off after leaving your place, you can conveniently do so with your phone or tablet.
Step into Luxury Today!
We know this is a great list of amenities, but this is only the tip of the iceberg when it comes to smart apartments in Johnson County, KS. The Apex at City Place has all this and plenty more, including a bark park for our furry friends, full-service salon, several parking options, on-site 24-hour convenience store, and the list goes on. The best way to see all this for yourself is by booking an appointment with us for a viewing and personal tour.
Use the Contact Us form on our website or simply give us a call at (913) 557-8812 and we'll find a date and time that works for you to swing by and check everything out. One of our staff will show you our brand-new luxury smart apartment homes along with all the amenities that The Apex features.