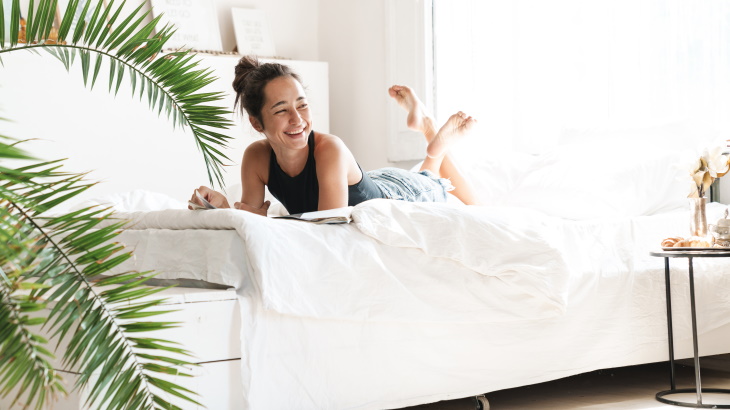 How Luxury Apartment Homes Can Level-Up Your Life
It's time to say "goodbye" to your roommates, and set the stage for living solo! You know you want to look for new apartments, but aren't sure if an executive studio or one-bedroom is right for you. So, what's the big difference? Check out the small details in suitesand one-bedrooms that have a big impact on your life, and why renting a luxury apartment is the only way to live.
What Are the Perks of Renting a One-Bedroom Luxury Apartment?
Most one-bedroom luxury apartments have a separate and spacious bedroom and bathroom, with a living room that opens to the kitchen. It's an ideal living space for singles, because you don't have to rely on a roommate to cover the costs of a bigger apartment. So, why choose to rent a luxury apartment with one room? Here are three key benefits of living in a one-bedroom apartment:
Great for When You're Single, But Room for One More
When you move into a one-bedroom apartment, you have plenty of room for yourself and all your things. You can turn your luxury apartment into your personal oasis so you can spend time away from the hustle and bustle of a busy life. However, adding an extra person to your one-bedroom apartment is easy. Which means you can share your getaway with someone special.
The only way to have enough room for all of your valuables is by finding spacious luxury apartments that can fit large furniture. For instance, you don't want to rent apartments near Overland Park with bedrooms that can't fit a king-sized bed with room to spare for other bedroom furniture.
Provides Plenty of Privacy
One-bedroom apartments offer a lot more privacy than a larger apartment filled with roommates. This means you never have to worry about someone else's mess spreading out into the living room when you have guests, and you have control over everything in your home. If you work from home, you can carve out a nook in your luxury apartment where you won't be bothered by noisy roommates.
You won't get the privacy you want, unless you move into luxury apartments near you. That's because you could end up in a basic apartment with thin walls. If you want to live in a peaceful home, it's best to look for apartments that are designed for your comfort.
Extra Space to Keep Your Luxury Apartment Clean
There's nothing more frustrating than a mess you just can't seem to organize. When you live with roommates or an apartment that has minimal storage space, clutter can get out of control. Living in a large one-bedroom apartment gives you a lot more room to organize and store things like pantry items, clothing, accessories, and linens.
Some luxury apartments even offer full-size refrigerators. This seems like something small, but if you're into meal planning and healthy living, then full-size appliances are essential for prepping your food for the week.
What's the Difference Between an Executive Studio and a One Bedroom Luxury Apartment?
In an executive studio apartment, also known as an executive suite, the kitchen and living room are typically combined into a larger space. Unlike basic studio apartments, executive suites have private bedrooms with their own door. They make a fantastic home for a single person always on the go, because they are small and require a lot less furniture to feel cozy. There's a lot more to studio living than finding a place to land after work. Check out these three benefits of living in a studio apartment:
Luxury SuitesAre Easy to Clean
When you live in a small space, you can quickly find time to clean. It's easy to move from the kitchen, to the bedroom, and right into the bathroom, as you tidy up. Plus, you're less likely to accumulate clutter, because you just don't have the room for things you don't need in a studio apartment.
Less time cleaning means more time for fun! The best luxury apartments have incredible amenities. Find a property that features community amenities that suit your lifestyle. Are you into gaming? Look for apartments that have a digital sports center. Would you rather workout? Rent luxury apartments that offer a yoga studio and top-of-the-line fitness equipment.

Smaller Space Means Fewer Utilities
Not only do studio apartments cost less to rent, they are also much easier to heat and cool. Utilities are one of the most expensive costs of living in a house or apartment, but they become much more manageable in a studio apartment. Not to mention, your electric bill will be smaller, because you can use a single strategically placed lamp to light up your entire apartment.
Smart apartments allow you to save even more on utilities, because you can control your thermostat through your smartphone. When you're not home, turn your thermostat to an energy saving temp, and when you're heading back to your luxury apartment, adjust it to a more comfortable setting.
Let Your Inner Interior Designer Shine
Executive studio apartments are very easy to decorate, and allow you to take risks with textures and colors that you couldn't take in a larger space. For instance, neon pops of color in a studio look a lot better than if it carried through an entire house. You also get to hop on innovative organization trends, like floating shelves and multifunctional furniture.
Bathrooms in luxury suites are always separate from the other space in your executive studio apartment. So, find luxury apartments near you that have spacious bathroom sinks, large linen closets, and walk-in showers. That way you don't have to worry about where to put toiletries.
Which Luxury Apartment Is Right For Me?
The choice between a studio apartment and a one-bedroom apartment is personal, but if you're having a hard time picking between the two, ask yourself these questions:
How Much Space Do You Actually Need?
Space is the most important detail when you want to rent a luxury apartment. Take note of how large your furniture is and how much storage you need. If you're working from home, you may want to upgrade to a two-bedroom apartment, and use one room as an office.
Do Your Pets Need Room to Run?
Your pet needs room to stretch out. Executive studio apartments might be the perfect pick for cats and small dogs, but if you have a larger four-legged family member, you'll want to rent a luxury apartment with more space.
How Much Time Do You Spend in the Kitchen?
Some people aren't into cooking and would rather grab food from their favorite restaurant. Others like to entertain guests and host dinner parties. If you plan on spending time cooking up delicious spreads in your kitchen, a one-bedroom might be a better choice.
Let The Apex at CityPlace Help You Find Your Next Home in Our Luxury Apartments
Stop the search for the best luxury apartments near Overland Park, because they are right here at The Apex at CityPlace! Our smart apartment living offers state-of-the-art amenities, large walk-in closets, and a dedicated staff. It doesn't matter if you choose a one-bedroom or an executive suite, you'll always be living a life of luxury.
If you think our floor plans are amazing, you'll love them even more when you find out we don't have weight restrictions for dogs! That's right, we are pet-friendly luxury apartments, and can't wait to meet your furry friend. To schedule a tour of our property and luxury apartments, call (913) 396-7822 or send us a message online. Live at The Apex at CityPlace and experience true luxury!