Seasonal Advantages That Our Tenants Love
Winter is officially upon us, and if you live in the Overland Park area, you know what that means – snow, ice, sleet, and maybe the occasional day where it's 70 degrees and sunny. Part of the charm of living in the Midwest is you never really know what the day is going to be like until you're walking out the front door.
If this winter is anything like the ones we've experienced in the past, you can certainly expect some bad days mixed in with the good. Blizzards and ice storms are stressful, especially if you're responsible for maintaining a house and the property it sits on. That's why living in an apartment home during the winter has proven to be advantageous as it relates to mood, time-management, and even personal safety.
No More Shoveling Or Salting
Is there anything worse than waking up in the morning to find a foot of snow covering your driveway? Not only does this mean you have to go out and promptly start shoveling (it'll turn to ice if you don't), but your entire morning is going to be thrown off due to the extra time you needed to clear everything off. It's not the best way to start off the day.
One of the biggest advantages of living in an apartment home during the winter is you'll never have to touch a shovel again. Every walkway is cleared off and salted by the maintenance team. At The Apex at CityPlace, we also offer garage parking, which means you won't have to wipe down your car the next time a big snow storm rolls through.
24-Hour On-Site Maintenance
Frozen pipes are a common problem during winter, especially in homes with old plumbing or that weren't built to promote continued water flow in cold temperatures. A burst pipe is even worse, often requiring many days of having to go without water so that the issue can be repaired. And don't even get us started on the expense…it'll definitely lighten your wallet.
Yet again, this is where apartment home living holds an advantage over home ownership. In the event of frozen pipes, a heat outage, or even something as simple as a light fixture repair, the on-site maintenance team will get to work on it at no additional cost to you. This 24-hour service is entirely built into your monthly rent, so you need not worry about winter weather-related problems ever again.
Winter Company & Community
Not only are Kansas City winters known for how they wreak havoc on the city, they're also infamous for wrecking social calendars. How many times have you tried to make plans for dinner or happy hour with friends only to have them abruptly canceled due to inclement weather?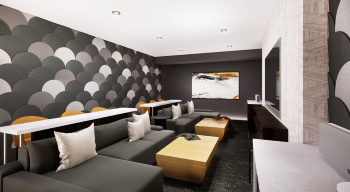 Winter in general makes it hard to get out and see people, and the pandemic has made this more difficult than ever. Eventually, things will get back to normal. Once it does, you'll be able to enjoy several group amenities The Apex at CityPlace offers so that you can get out and socialize with friends and other residents.Our digital sports lounge is the perfect spot to watch Mahomes and the Chiefs rack up another win with fellow fans. We also have a social lounge that features a full-size billiards table, foosball, and shuffleboard. And, of course, no luxury apartment would be complete without a luxurious firepit – the perfect spot to sip hot cocoa with friends on a cold winter's day.
Health & Fitness
Mustering up the energy to work out after a long day at the office can be difficult. During the winter though, it can feel downright impossible. Take it from us, you don't want to go for a jog when it's 10 degrees outside. It's not pleasant. And driving on icy roads just to use the treadmill at the gym is a little too risky. Factor in all the holiday food and you can see why it's easy to let your health and fitness goals slip away.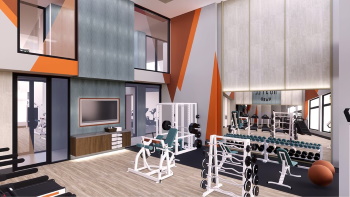 Once again, this is another area in which apartment home living proves to be more convenient and fitness-oriented than home ownership. You won't have to worry about braving the cold or icy roads just to get to the gym – the gym will be on-site, just a short walk away from where you live. The Apex at CityPlace takes your personal health just as seriously as you do, which is why we offer an exclusive fitness center that features a cardio room, weight room, yoga studio, and cycling studio. Staying fit and active during the winter will never be easier or more convenient.
So Many Amenities
A house is what you make it, but an apartment home can go far beyond what you've ever imagined. Here at The Apex, we love amenities. They're luxurious, comforting, and, during the winter months, essential to modern living.
Are you fresh out of bread or milk? No problem. We have a 24-hour mini mart where you can pick up those essential items to tide you over.
Unable to make it into the office due to road conditions? Feel free to work remotely using our flex working space and conference room.
The Apex also features a media lounge, private dining room, wine lounge, and massage room as part of our exclusive list of amenities for our residents. Being snowed in has never been better.
Step Into Luxury
We've talked up the advantages of apartment homes quite a bit, but seeing is believing. Take the first step towards high-end modern living by booking an official tour so you can see everything we have to offer. Our luxury smart apartments allow you to control every facet of your home – from the lighting to the thermostat – with the touch of a button through The Apex's smartphone app. We're also pet-friendly and conveniently located in Overland Park near Corporate Woods.
Contact us today at 913-374-6057 to see how great modern living can be.