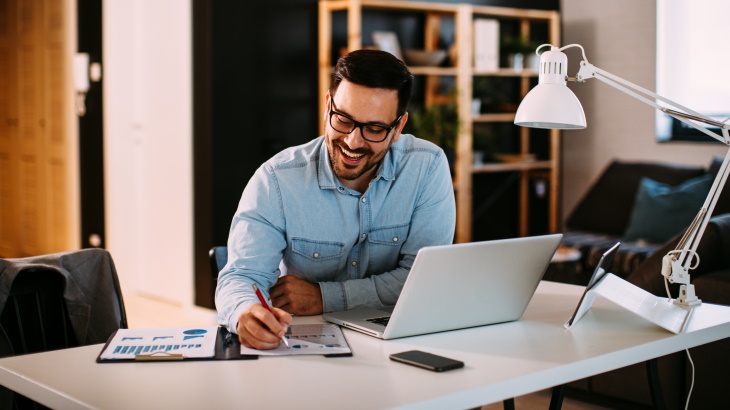 How to Stay Productive, Increase Efficiency, and Keep a Positive Vibe in Your Home Office in Overland Park, KS
It's a fact – more Americans are working from home now more than ever. This has been a challenge to both companies and their employees, but we're finally finding a way to make it work with innovations in technology and some clever problem-solving. The new normal for most people means working in the same place they live and relax, which can be a bit of a culture shock if you've had a hard time adapting.
At The Apex at CityPlace in Overland Park, we know many of our residents are on a work from home schedule and need every advantage that they can to remain productive as we enter a new year. Here are our top five ways to make working from your luxury apartment home efficient while maintaining a mentally-positive vibe.
Make a Dedicated Work Space
Your work area should be totally dedicated to work. Don't make the mistake of turning your kitchen or bed into a makeshift office, which can bring about negative connotations when it comes time to sleep or cook. Ideally, you want your at-home office space to avoid any overlap with other areas so you can mentally keep it separated when the work day is done. We know with limited living space this can be difficult, which is why The Apex offers flex work space and a conference room for those that require complete separation.
Invest in Good Office Equipment
If you invest in good equipment, it's going to make it that much easier for you to make the transition from a regular office to working from home. First and foremost, this means purchasing an office chair that is both comfortable and supportive. You also want to make sure that your desk or work surface is ergonomically-correct and doesn't cause you any sort of undue strain. Finally, make sure that you have a properly working computer with secure (and fast) Internet connection. Being able to work comfortably and with no technical limitations ensures productivity.
Make a Work Schedule (and stick to it)
The hardest thing that some individuals have had with the shift from traditional office to working from home is maintaining work hours. There can be a tendency to start late and/or work late into the evening because there you are essentially your own manager now. Our advice is to treat your home office like a regular office when it comes to work hours. If you traditionally start at 9:00 and go to 5:00 – stick to that. Setting fixed office hours ensures that you can mentally shift out of employee mode once you reach the end of the day. This better allows you to relax and unwind, thus, better preparing you for the days ahead.
Take Breaks and a Full Lunch
Most offices have a predetermined break and lunch schedule for their employees. Traditionally, this means taking a couple fifteen-minute breaks and a half hour lunch. These breaks are important because they serve as opportunities to give your mind a rest and recharge your batteries. By not taking breaks, you could be hurting your productivity in the long run, which can be easy to do when you're working from home. An example of this would be eating lunch at your laptop while working. Take full advantage of your lunch by stepping away from work and allow yourself to actually enjoy eating. On the flipside of that, make sure you don't slip into the bad habit of taking too many breaks. That will hurt your overall productivity.
Make Use of Your Amenities
The beauty of working from your luxury apartment home is that you have so many amenities located just beyond your front door. This not only includes a flex office space and conference room, but also things like a full fitness center, Zen garden, and bark park. The Apex at CityPlace specifically included these features so that work from home residents can find reprieve from their hectic workdays. Having easy access to avenues of relaxation can be integral to avoiding burnout. Never underestimate the power or a good massage or intense workout to help you unwind.
Work From Home In Comfort at The Apex at CityPlace
At The Apex at CityPlace, we provide our residents with the luxury living space and all the amenities they could ever need in order to remain happy and productive. We make working from home a joy, and welcome those in the Overland Park area who are looking for a new apartment home to come see what we have to offer.
The best way to see how great your next apartment home can be is by checking out our virtual tour or by scheduling an in-person tour. Contact us today to set one up.