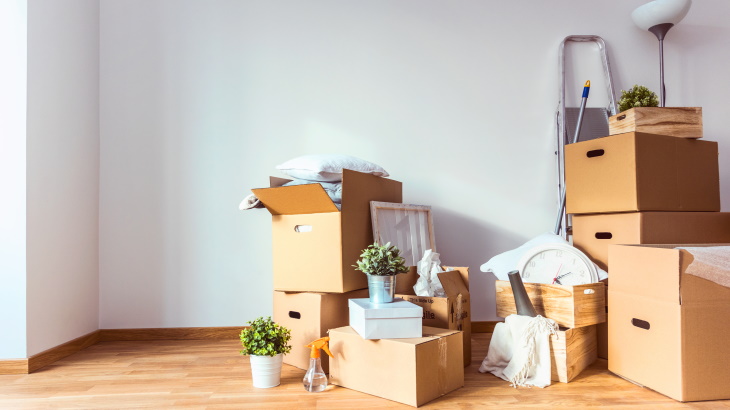 A Closer Look at Which Season Is the Best to Move Into Your Luxury Apartment
When you're totally over your basic apartment or ready to ditch all the chores of owning a home, luxury apartments in Overland Park are the only place to go. However, everyone knows moving is a lot of hard work. It's important to protect your belongings and switch homes at the right time. So, which season is best to move?
What Season Has the Best Weather For Moving?
Spring is a good time to move, if you're a person who warms up easily. Dress in layers and start moving in the morning. By the time the afternoon sun shines on your moving day, you'll be ready to shed your sweater and keep moving.

Tell Me More About Moving in the Spring
Spring weather brings many long weekends, which is ideal for moving. Use an extended weekend to get settled into your new apartment. You can slowly unpack boxes, get to know your new neighbors, and explore the amenities. It also gives you the ability to spend time with friends and family in your new apartment. Check out these ways to get settled into your home:
Change your address and transfer your utilities
Stay organized when you unpack
Help your children and pets get settled
Have a housewarming party and explore your neighborhood
Once you get settled in, we won't let you sweat the small stuff at the Apex. Use our dry cleaning drop-off and pick-up service, workout in our exclusive fitness center, and experience even more complimentary resident services.
Is Summer the Best Time to Move Into Apartments in Overland Park?
The first few weeks of summer have brilliant weather and give you a little extra daylight. All you need to do is beat the heat. Here are some quick tips for staying cool when you're moving in the summer sun:
Pack in advance
Try to move the heaviest objects in the morning or evening
Avoid peak sun hours
Wear cool and comfortable clothing
Stay hydrated
When Is the Best Time to Move With Kids?
It's tough for kids to change schools in the middle of the year. So, if you're looking for a new home in a different school district, it's best to move in the summer. The Apex at CityPlace is in Overland Park, which was named as one of the best places to grow up by the U.S. World News & World Report, and one of best places to raise your kids by Business Week.
Summer Fun With Incredible Amenities
Your family will love relaxing by the pool after a long day, especially when they spent most of their time moving boxes. When you move in the summer, you have access to all the incredible amenities that aren't available in the fall and winter.
We take summer amenities to the next level at the Apex, because every resident can visit our poolside bar, relax in a private cabana, and sunbathe on a gorgeous pool deck. Wrap up your move-in day by grilling with your friends and watching one of our outdoor televisions.

What Are the Benefits of Moving into Luxury Apartments in the Fall?
Just like spring, fall provides excellent weather for moving. You don't need to worry about summer heat or icy winter weather, which means moving heavy items won't be as difficult during the middle of the day. The one drawback with moving in the spring or fall is that you might deal with rainy weather. That's okay, because there are easy ways to keep your items out of the rain:
Tape cardboard to your entryway floors to keep muddy shoes off your carpet, especially in a studio apartment
Divide the people helping you into two teams: inside and outside
Use tarps to cover large items like couches and dining room tables
Don't rush to avoid injuries
Give Me More Information About Finding Apartments in Overland Park During Autumn
One of the best parts of moving in the fall is that you get to decorate your new apartment for the holidays. When you move in by the beginning of Autumn, you'll have time to find fabulous decor for the holidays. Plus, it's just in time to cozy up with your dog on the couch after a day at the dog park.
You can stop searching for the perfect pet-friendly apartments, because the Apex is taking creature comforts to another level. We are passionate about pampering you and your pet. Take your dog for a walk in our private dog park, make them feel like new at our paw spa, and wind down with a treat in one of our smart apartments.

What Are Tips for Moving in the Winter?
Winter is a wonderful time of year, but let's be honest, it's not the best time to move. It's cold and windy. However, sometimes you need to get into your luxury apartment right away, and just can't wait for warmer weather. Fortunately, there are some real perks to moving in cold weather:
Winter is a slow season for moving companies, so prices are low, and availability is high
More relaxed move in, because there are fewer people coming in and out of your new apartment complex
You don't have to worry about heat melting items like cosmetics and candles
There isn't a risk of heat exhaustion, and your items are less likely to get soaked by rain
Get a Smart Apartment and Control Your Thermostat From Anywhere
Smart apartments make life a lot easier. At the Apex Luxury Apartments at CityPlace, our apartment homes feature smart locks and smart thermostats. That way you can unlock your door for guests with your phone and turn up the heat from the comfort of your bed.

It's Always a Good Time to Move Into the Best Luxury Apartments in Overland Park
Are you looking for the best apartments in Overland Park? Your search is over, because the Apex at CityPlace has everything you need to live luxuriously. Come see our studio apartments or look at two or three-bedroom apartments for extra space.
Each apartment features USB electrical outlets, full-size washer and dryers, and large walk-in closets. Every resident has access to incredible amenities like a bark park, private yoga and cycle studios, an infinity pool, and much more. To learn more about the Apex at CityPlace call our leasing office at (913) 396-7822 or contact us online. Don't forget to ask us about leasing specials on select homes!