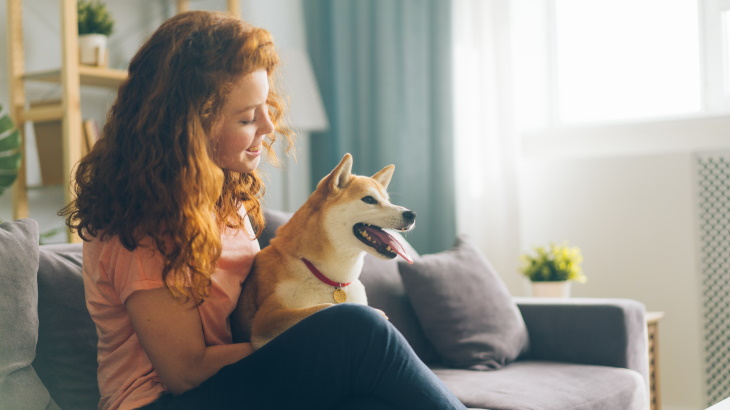 Ways to Keep Your Dog From Getting Cabin Fever in Your Luxury Apartment
There's nothing better than cozying up on the couch with your favorite vino during a cold winter day. However, there's just one problem: you need to take your dog out! You know your furry family member needs more activity than a quick trip outside, but don't exactly love the idea of a long walk in the slush and snow. So, what can you do to keep your dog from getting cabin fever this winter?

Start With Switching Out Toys
If you're like most pet parents, your dog has a lot of toys, and is only going to get more for the holidays. It's a perfect time to start a toy rotation, instead of putting them all in the same box. When you rotate toys, it makes it easier for your dog to choose which toy to play with and always gives them something new to play with.
All you need to do is keep four or five toys out at a time. This ensures an easy rotation and less pick-up for you. When you put toys away, clean them thoroughly, and store them in a place where your pup can't get into them.
Don't include your dog's favorite toys in the rotation, because they are going to want to find them when you're not home.

Move Into Pet-Friendly Apartments and Make a Puppy Play Date
When you're searching for "luxury apartments near me," look for residences that have a private dog park, and schedule a playdate with your neighbors. Let your dogs run around off-leash to burn energy, and then come back to your pet-friendly apartments to relax.
Turn up the heat from the dog park with a smart thermostat, that way you and your new friends can warm up as soon as you get inside!

You Can't Teach an Old Dog New Tricks
But you can try! Keep your dog's mental agility active by spending the coldest weeks of winter learning new tricks. You'll be excited to show off when spring arrives. Have a dog that's a little defiant? Check out these tips on how to train a stubborn pup:
Take it slow
Avoid distractions
Keep it consistent
Don't punish
Choose the right reward
If all else fails, you can drop your four-legged family member at a doggy daycare to get some extra help. Welcome them back to your luxury apartment with their favorite treats and relaxing trip to the paw spa!
Get Resourceful in Pet-Friendly Apartments and Make an Obstacle Course
Did you know you have everything you need in your apartment to keep your dog active for hours? You can customize an obstacle course for your dog in your very own living room to keep them active and agile. Here are few things you can use to upgrade your smart apartment to a playground for your dog:
Blankets for a play tunnel
Plastic water bottles to weave around
Balance board for an extra challenge
Broomstick to jump over
If you just moved into your apartment, you hide treats and toys in cardboard boxes, place them around home, and send your dog on their own treasure hunt.

Remember Your Cat Needs TLC, Too
Even though cats are known for lounging around, they still need to be active during winter, or you might find them getting into a little more trouble than usual. You can easily entertain your feline family member by purchasing a cat tree or cracking your patio doors so they can experience the cold air.
Find smart toys to match your smart apartment. Find cat lasers, treat dispensers and cameras that you can control with your smartphone. That way, you can always check in on your best friend wherever you are.

When All Else Fails, Just Relax in Your Luxury Apartment
Sometimes, the weather is too cold and your home is so comfortable, that there just isn't a need to be active. Stay in, grab your favorite blanket, curl up with your dog on the couch, and order more toys for your new rotation. You can always try to be more active tomorrow!

Find Everything You Need and More at Our Luxurious Pet-Friendly Apartments
When you lease a luxury apartment at the Apex at CityPlace, you're getting the best amenities for you and your pet! Take your dog to our private bark park and pamper them in the paw spa. When you're done giving your furry family all the love and attention they deserve, take care of yourself in our exclusive health club and melt away stress in our private wine lounge.
It doesn't end there, because our pool and swim-up bar are exactly what you need when winter is over, and things heat up. Ready to see our luxury apartments near Overland Park? Contact our leasing office online or call us at (913)396-7822 today to schedule a tour at the Apex at CityPlace. We can't wait to share our incredible amenities with you this winter!